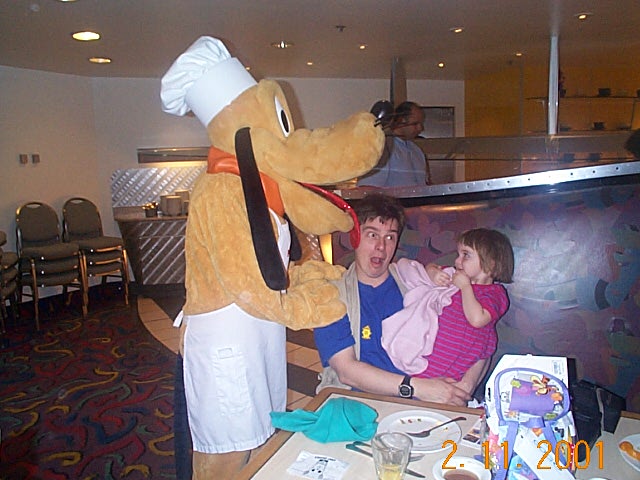 Pluto kissing Daddy at Chef Mickey's restaurant at the Contemporary Resort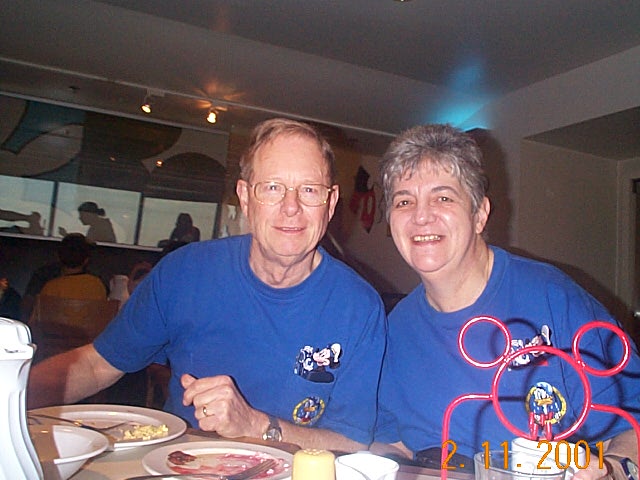 This is a photo of Grandmom & Pop-pop taken by Grace!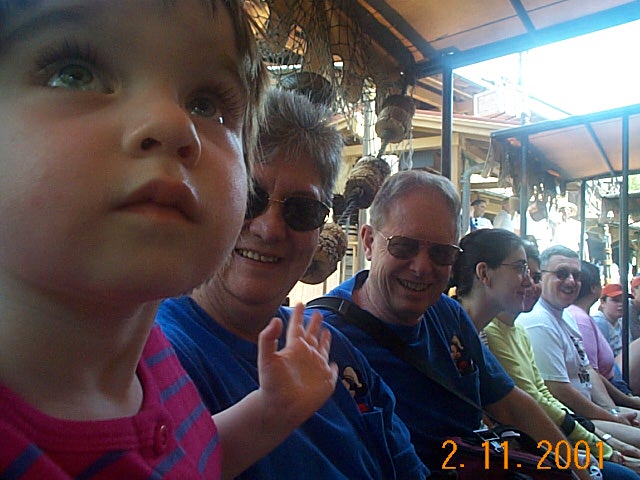 Grace and her grandparents on the Jungle Ride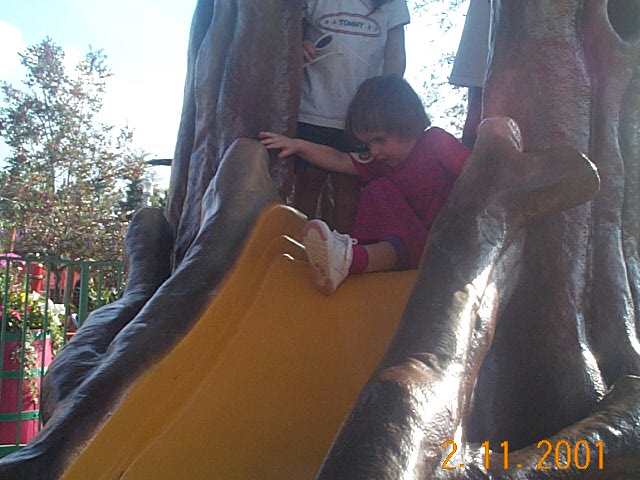 Grace sliding down a slide at Mickey's Toon Town Fair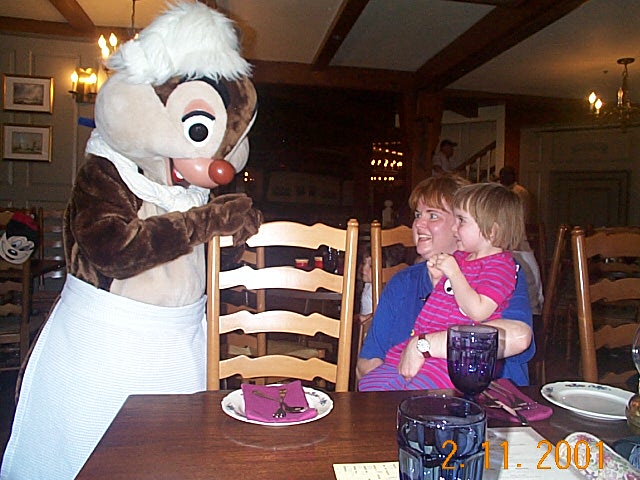 Chip (or is it Dale) saying hi to Grace and Mommy at the Liberty Tree Tavern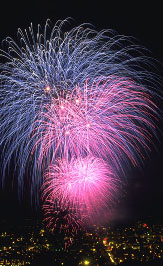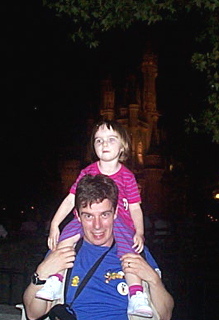 Daddy and Grace getting ready to watch the fireworks
Day 5 of the adventure
1. Contemporary Resort to go to the character breakfast at Chef Mickey's. Where we saw Mickey, Pluto, Goofy.
2. Then to the Magic Kingdom to ride on the Pooh ride again. (we used the FAST PASS to get 4 tickets and let Grace go on 4 times!) (We went on the "It's a Small World ride and the carousel waiting for our FAST PASS time to come around.
3. We went to Peco's Bill's cafe for lunch and on the way we got FAST PASSES for the Jungle Ride in Adventure Land. It was perfect timing. When we were finished with lunch (and watched some square dancers) we went right on the Jungle ride with no waiting.
4. As we walked to tomorrow land, Grace fell asleep and slept for 2 hours!!
a. While Grace was asleep, we alternated watching Grace. Jeanne and Ken got Space Mountain FAST PASS. (we went on the Buzz Lightyear ride while waiting for our fast pass time to come up), Ruth and Ken Sr. went on the Time Machine show. Jeanne and Ruth went on the Carousel of Progress. When we came out of Space Mountain, Grace was awake and ready to go!
5. The people mover (Tomorrow Land Transit Authority) was a good transition for Grace to go from nap mode to awake mode. She wasn't afraid of the dark parts (inside space mountain and the Buzz Lightyear ride).
6. Grace wanted to go on the rockets above the people mover. So we did. At first we thought she didn't realize what she was asking to do, but sure enough she loved it!
7. A short trip to Mickey's Toon Town Fair using the back way (the path along the train tracks). Grace liked playing in the small playground here.
8. We took the train around the park for one full trip (back to Toon Town) and then again to the Main Street Station. Then we walked up Main street towards the Liberty Tree Tavern.
9. We had priority seating set up at the Liberty Tree Tavern for dinner with Minnie Mouse, Pluto, Goofy, and Chip & Dale!!
10. We finished dinner right before the fireworks at 7:00PM. (after a stop at the Christmas shop).
11. Grace was up pretty late so we read books till 11:00.
All in All -- a huge day.
---

Back to the main page for this trip.