Monday, 5 June 2000.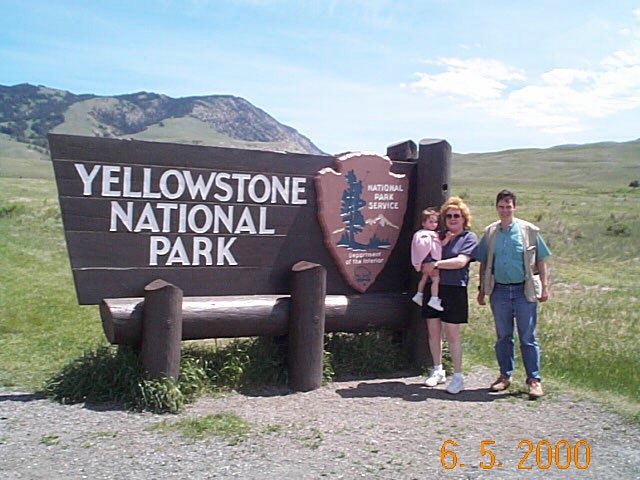 Welcome to Yellowstone Sign at Gardiner Entrance
---
We drove into the park again today. Here is the family at the famous entrance arch. Built circa 1903 for the main entrance to Yellowstone. The Northern Pacific Railroad stopped here from Livingston. All the people from the train would get stage coaches from this point to Mammoth Hot Springs (about 5 miles and 1000 feet up away).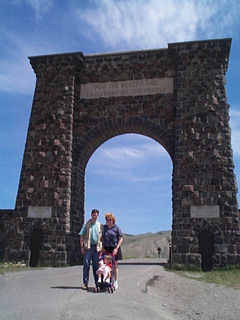 ---
Here is a closeup: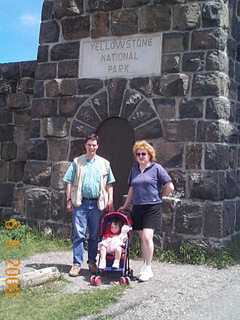 We did a lot of driving so Grace was often in her car seat. Here she is ready to go again...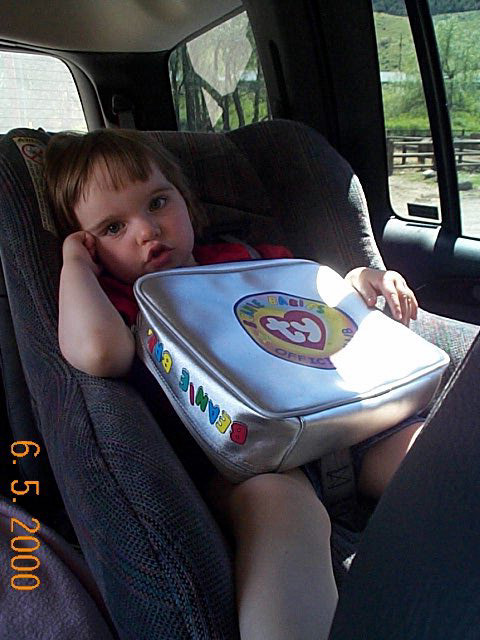 Here is a bison (a.k.a. Buffalo), one of manny we saw at the park.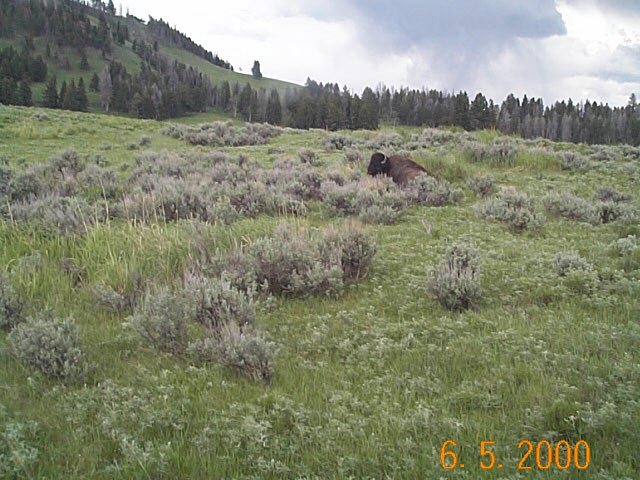 Other Buffalo (actually, it's the same one taken from different angles: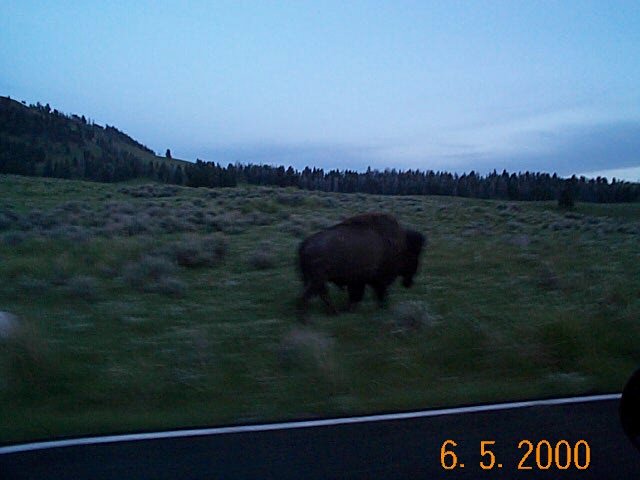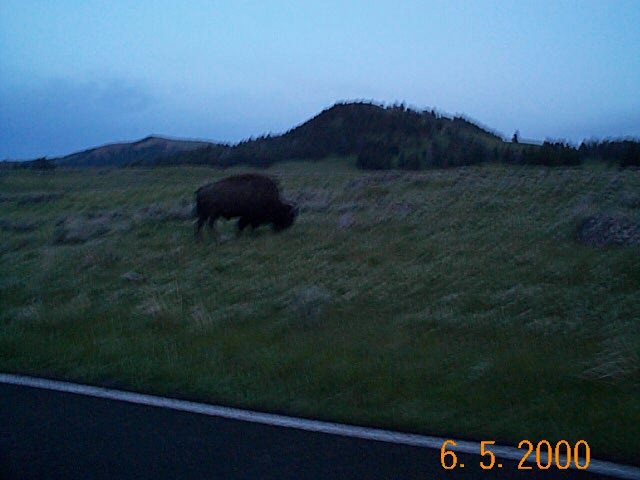 ---
At Mammoth Hot Springs, WY (the north entrance to the Yellowstone) there are rock formations called the terraces. These are made out of Travertine rock that has been dissolved in very hot water (the same hot water that powers old Faithful, 50 miles away) and then redeposited on the hillside. Ken had Grace on his back as Ken Jeanne and Susi walked over the formations via the boardwalk: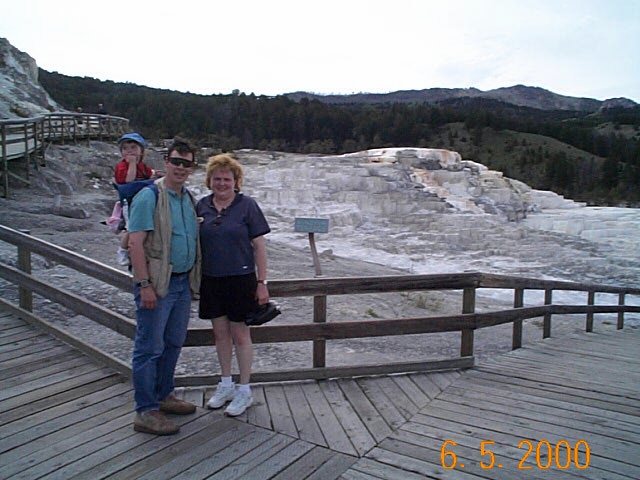 _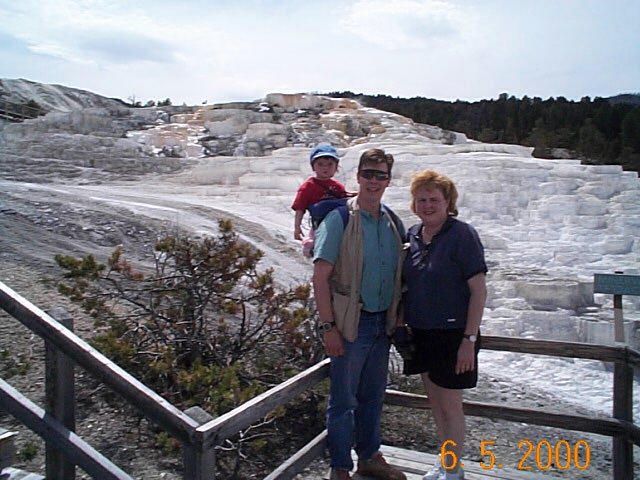 _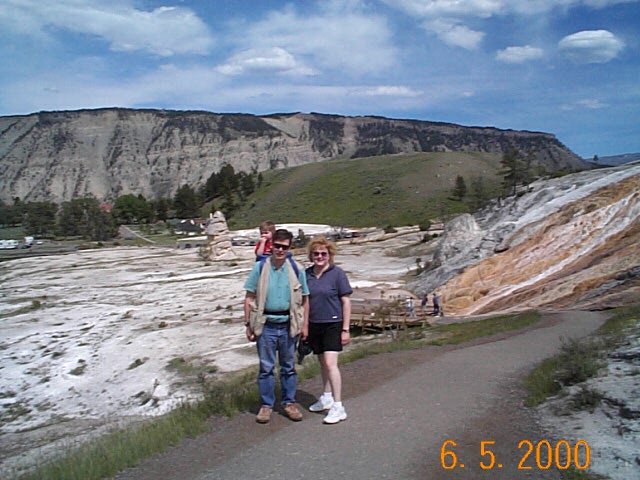 The formation behind and to the left of us, in the last photo, is called the Liberty Cap, A hat worn at the time of the French and American Revolutions by revolutionaries in both countries.
---
After Mammoth, we travelled towards the Roosevelt area of the park and visited "THE" Petrified Tree. There are many petrified trees in the park, though not as many as in the petrified forest N.P. in Arizona. This particular tree however is still standing, not to mention that it has its own parking lot and picnic grove named after it. Since Grace was taking a nap in the car at the time, and we didn't want to slam any car doors, we all got to see it from the car. Here is the view: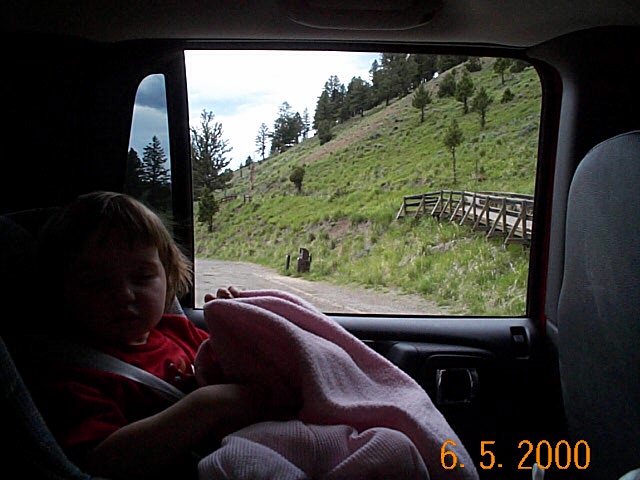 (You can't really see it from this photo, just the walkway leading up to it)
After that, We travelled to the far northeast corner of the park, and out of the park a few miles to the great metropolis of Cook, Montana. Here you can see Mommy and Grace on the main road of Cook: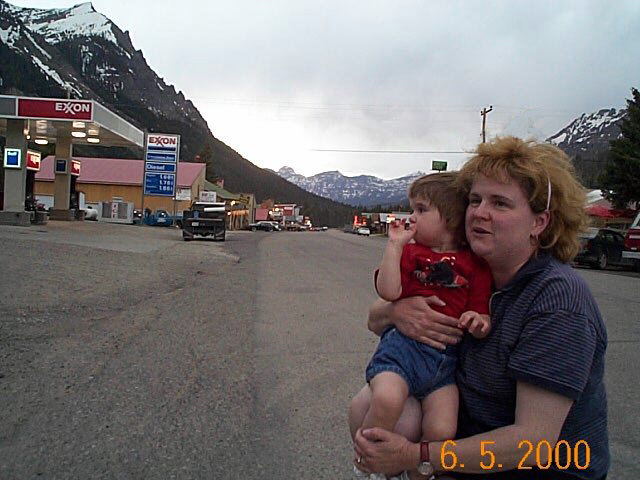 On the way home, we saw more buffalo, deer, and even a coyote in the middle of the road. We followed it for about 100 feet before it darted down off the road. It was about 9:30PM by that time and the driver didn't feel like taking a digital photo.
That's it for Monday.